The CW keyer is specifically designed to work with a DTR/RTS keyline to emulate the closure of a CW key. Several transceivers have this capability built in to the hardware. Some expose a separate keying port (FT-991A) and some share the CAT serial port (IC-7300). A simple DTR/RTS keying circuit can also provide the h/w interface. This one provides galvanic isolation: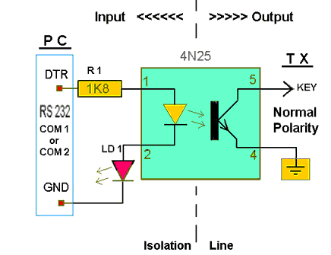 Open the keyer dialog with the main dialog menu item "Keyer"

WPM slider selects the keyer speed
Clear - clears the text in the transmit buffer
transmit text will marquee to the left as each character is transmitted
Send/Pause button toggles sending text.
macro buttons / function keys load transmit buffer with canned message
the transmit text buffer must have keyboard focus for character entry. left click on the entry area to gain keyboard focus.
Tip for the function / macro buttons:

Control-left-click opens: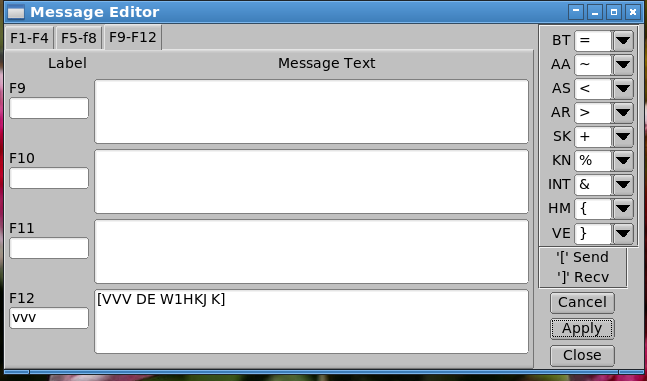 A CQ macro with start/stop (ptt enable/disable):
[CQ CQ DE W1HKJ K]
Config opens:

The DTR/RTS port can be either
shared with the CAT port
shared with the SEP port
shared with the AUX port
a unique serial port configured on this dialog
select either DTR or RTS for the keyline as required by h/w
Calibrate button sends standard "PARIS " word, WPM times. Program measures actual time to transmit and sets compensation value. Comp(msec) can be adjusted by user.
PTT delay is in milliseconds. Enter a non-zero value to enable a delay between the PTT-on and the first CW keyline closure. The same delay will be applied to the last CW keyline closure and PTT-off.